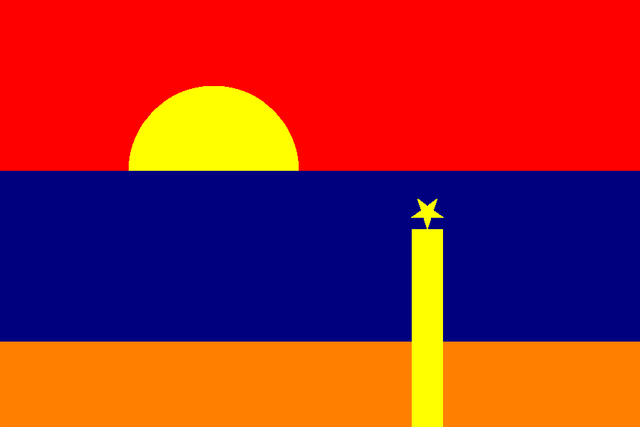 Flag proposal for Michigan by FlagFreak, from http://flagdesigner.blogspot.com/2007/05/michigan.html. Originally uploaded on 16 May 2007.
Original description:
"This Michigan flag design was inspired by previous Michigan flag design with a moose. The blue represents the Great Lakes, and Michigan's nickname, "The Great Lakes State". The orange represents West Michigan's Dutch influence. The red and blue represent the United States. The red also represents Germany, which has an influence on Michigan. The yellow monument represents the United States, as it is made of a stripe and a star. The setting sun is placed a little to the left to avoid being worn off the flag by the wind.
The current Michigan flag is ugly and very hard to see. There is a moose holding up the state coat of arms, and an elk! Two animals on one flag? One is complicated enough, but two? And it has "TUEBOR" on top of the sheild on the coat of arms on the flag. The state motto (in Latin) is below the coat of arms in red. And there's an eagle on the top of the flag. The elements on the flag are not only ugly, but they are also very hard to see. And one more thing...why in the world is the motto in Latin? I see absolutely no reason other than to attract foreign people. Why isn't anything on the flag in English, Michigan's official language?"
Appears on these pages

of
The flag of the State of Michigan depicts the state's coat-of-arms on a dark blue field, as set...
File history
Click on a date/time to view the file as it appeared at that time.
Ad blocker interference detected!
Wikia is a free-to-use site that makes money from advertising. We have a modified experience for viewers using ad blockers

Wikia is not accessible if you've made further modifications. Remove the custom ad blocker rule(s) and the page will load as expected.